THE GROTTO CLUB - 1958 to 1959
by Robert (Bob) Priddy
The Grotto Club, mainly for Roman Catholics, in Baker St. offered live dance and jazz music in 1958/9. Together with a gifted young musician who played piano, Roger Coulam, then studying at the Guildhall College, and a drummer (most often Ivor Tyler) I formed a (non-Catholic, agnostic) trio - myself on electric guitar - to play three nights a week at a small cellar club in Baker Street. This, The Grotto Club, was run by four agreeable and enterprising young men (Alan, Tony, Derek & ?.), all Roman Catholics, who shared the work on the door, the bar and so on.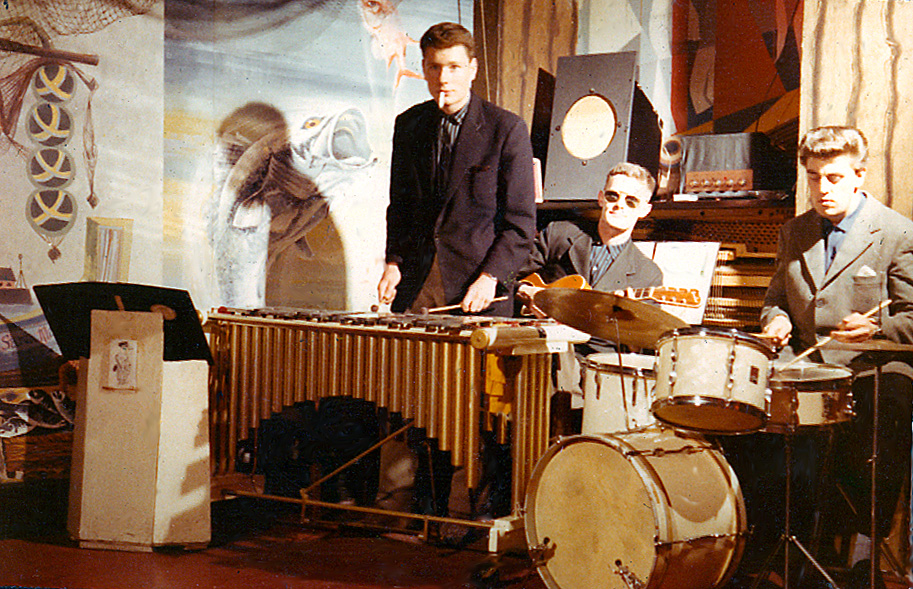 - BOB PRIDDY (el. gtr.) - ROGER COULAM (pno. & vibes) - IVOR TYLER (drums)
---
This permanent gig was turned over to me in early 1958 by a middle-aged guitar-playing friend, Fred Donovan, who was tired of the car journeys from Mitcham to the West End. It was a small place and often stifling, as it soon became packed with over 100 people. The main clientele was Catholic - unbelievably for a Baker Street night club, so we had to cater to rather more catholic tastes than were ours. Being totally dedicated modern jazz afficionados, we moaned to each other about having to interrupt our 'cool' improvisations with standard waltzes, tangos and rumbas. We bore it (if without many grins), varying the tempos and dances. Our favourite pieces were those which could be played at the tempo sometimes known as 'medium bounce', not too fast for us to improvise passably on. Most clients doubtless needed frequent relief from the then-obscure pieces we played that we had learned from records of Dave Brubeck, Gerry Mulligan, Miles Davis, André Previn's jazz piano, and the Modern Jazz Quartet ('the M.J.Q.'). The jazz we aimed at was modern, and that meant a waltz now and then - preferably not in groovy style - then some Latin American stuff for the tangoers, sambaists and budding cha-chaists among them. On St. Patrick's Day we would have to reel out at least one Irish jig.
Click here to see the repertoire of tunes performed
Space was so precious in that basement club that we had to cramp ourselves into a corner underneath the very life like underwater scene which, from the audience's point of view, included us... as if we were part of an aquarium. I always sat in a position where my head was virtually in the huge maw of an oversized attacking hake or halibut. When Roger expanded his instrumental range by getting a vibraphone, the extra two foot of space was only allowed to us most grudgingly. We then considered briefly naming ourselves the 'Mordern Jazz Quartet', for we lived not far from the tube station Mordern. There was, of course, a well-stocked bar at the back of The Grotto, but we allowed ourselves the liberty of maximum two glasses of drink a night each maximum, and no more than two 12-bar blues each side of the interval.
Among the clients I recall was an aspiring actor who was on a comic script-writing team at the BBC, John Junkin, who had a stock question for us, supposedly a technical joke, "How are your dec-i-bels?". He was an aspiring bongo drummer and was ever asking to sit in with us on all Latin American rhythms we played, which he did until his playing became quite passable. He had been inspired to take up the bongoes by seeing the film Monsieur Hulot's Holiday. I later saw him playing bongoes backstage with the Beatles in a shot in A Hard Day's Night , in which he played one of the comic roles.
Contact
Bob Priddy - e-mail